The tour encompasses three unique experiences for all age groups and lasts approximately 1.5 hours, or longer if you reserve a private charter.
NARRATED TOUR
---
Sea Racer crew will give you a narrated tour along the route from the moment you depart. The tour starts out from Salty Sam's Marina and takes you along the Main Street shrimp boat docks where the fleet of shrimp boats unload their catch. Your crew will give you a bit of history and some interesting facts about the shrimp fleet that fish these waters. You'll then pass under the Matanza's Bridge that connects Fort Myers Beach to the mainland and then get an up close look at the Fort Myers Beach Coast Guard Station and cutters stationed there. After some interesting facts about the Coast Guard, you'll get a waterfront view of the many beautiful homes and marinas along the way. Next, we'll look for dolphins playing in the waters between Estero and Bird Islands which can normally be seen up close in the channel. After that, we head out around Bowditch Point (the northern tip of Fort Myers Beach) where the Thrill Ride begins!

---
THRILL RIDE
---
Sea Racer is the newest and fastest speed tour boat on the beach. It's a 70 foot fiberglass and aluminum boat, custom built by Ocean Rockets and powered by two turbocharged CAT diesel engines totaling 2300 horsepower. This offshore style race boat will give you a thrill ride of a lifetime at speeds of 35 miles per hour. The boat is United States Coast Guard (USCG) certified to comfortably seat 128 passengers and will zip along Fort Myers Beach (FMB) and the Gulf of Mexico giving you the excitement and experience of being on an offshore race boat. Once we race past the FMB fishing pier and the Lani Kai Hotel, we'll bank to the right and head toward the Sanibel Lighthouse. But that's not all...
---
DOLPHIN SIGHTINGS
---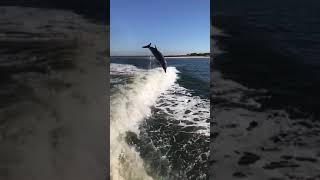 No other tour boat in Fort Myers Beach (FMB) gives you the excitement of a thrill ride AND up-close dolphin encounters in one. After you've traveled at speeds up to 35 miles per hour along the coast of FMB and Sanibel Island, you'll need a break to catch your breath. This is when we slow down and look for dolphins that are usually feeding in the waters along the Sanibel Light House coast. You'll have an opportunity to take some pictures and possibly see dolphins in their natural habitat. With some coaxing from the viewers, you may even get the captain to make a large wake behind the boat these playful creatures almost always love to jump in. After the show, we crank up the rockin' sound track and turbo charged engines while we race back to shore with the wind in your face and thrill in the air. Once inside the slow speed zone, there's opportunity for another dolphin encounter.
---
---